A Weekend Away With the Kids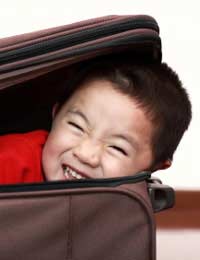 On a cold, wet Friday afternoon, it may hardly seem worth the effort to load the kids up in the car and drive for hours – or jet away somewhere quick - for just a couple of nights away.
But once you arrive at your destination, a weekend break can do wonders for the morale of the entire family.
Spend time investigating which type of break will suit your family best. If you have young children, you may want something closer to home, with plenty of fun and interesting places to visit to choose from.
Older kids will prefer a more activity-orientated break – this could be the perfect time to introduce them to camping, rock-climbing or a variety of watersports, something they normally wouldn't be able to do at home.
Types of Breaks
Even if you're going away for just a few days, choosing the break that's right for you and your children is all-important. You'll need to take a variety of considerations into account, such as budget, distance, age of children etc. With a little advance planning, you're sure to get it right!
On a Budget
Visiting Friends. If you're short on cash and just want to get away from it all, visiting friends in another city can be a fantastic way to catch up and recharge everyone's batteries. If you have friends with children the same age as yours, hopefully they'll keep each other busy and everyone will have a break!Visiting Family. Keeping in contact with family members is important for children, who like to think of themselves as part of a large, cohesive unit. Make the time to see relatives with whom you don't stay in close contact, or see the grandparents for a long weekend.Camping. Load up the car with your tent and sleeping bags and head for a campsite or coastal area. Camping is a great adventure for both younger and older children – and often adults like it too!
City Breaks
Look online for great deals. If you want a simple hotel in a nearby city you can often get two nights for the price of one. City break deals abroad often give discounts when you book flight and hotel together.
Hotel Breaks
Spending the weekend at a luxury hotel in your own city can be a great way to relax with little effort. Choose one near a waterpark or with a kid's pool, or one with great childcare facilities if you crave a bit of time on your own, or as a couple.
Luxury Breaks
Many spas offer luxury breaks with spa facilities available for adults while the kids are occupied in the crèche. If money is no object, choose one that caters to both parents and their children. The best ones do that well, and even have restaurants with menus that cater to both simple and sophisticated palettes.
Farmhouse Breaks
Staying in a farm offers a rural idyll with a variety of settings to choose from. Make your stay as rustic or as luxurious as your budget allows. Some farms allow children to experience the animals first-had, from milking cows to horse riding and goat feeding.
Holiday Village
Whether you choose Center Parcs, Butlins or Hoseasons, holiday villages are great for people with children of varied ages. There is, literally, something for everyone, and while activities can be pricey you can save costs by doing most of your cooking onsite.
Top Tips For a Relaxing Weekend
Don't choose a break which will involve spending almost all your time on the motorway. If you've always wanted to visit a specific town that's a seven-hour drive away, save it for when you have more time.
If you can leave early on a Friday or arrive back late Monday, do it. Extra time on either side of the weekend – or on both sides – will make the break seem a lot longer than it actually is.
Hoping to participate in a host of activities or get childcare during your break? If so, book well in advance. Activities at places such as Center Parcs book up incredibly early, so decide on activities early – and book them.
Spending extra time investigating family-friendly accommodation is often worth it, as it will save you the hassle of lugging a travel cot, highchair, cot linen etc with you. By the same token, if you book a villa or cottage find out about the cooking facilities before you go. With a small baby, a microwave may be important.
Going away for a weekend with the children can be a great way to chill out, and if you play your cards right you'll come back feeling relaxed and refreshed. We can't all afford long summer holidays anymore. But if you can take one – or perhaps several - weekend breaks away, you'll have a great time!
You might also like...