Cheap Entertainment: Libraries and Playgrounds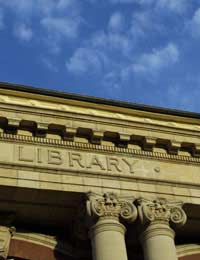 Often we parents pay a lot to take our children on an expensive outing to the zoo, cinema or posh restaurant, only to discover that they would have been just as happy with a trip to the park and a 69p ice lolly.
Children don't discriminate based on cost, and are often more than satisfied with activities that don't cost the earth. Keeping them happy on a budget is easy – if you know how. Here are some cheap summertime thrills that will make your children – and your wallet – as happy as Larry...
The Local Library
These days, libraries have a lot more going for them than just books. Have your children join a reading programme, listen to supervised storytime or play on the library's computers. Many libraries also have planned themed events throughout the summer as well. With such cheap entertainment, the summer's bound to be fun!
Make a visit to the library a weekly affair to encourage your children's love of books and remember, many libraries have children's videos that can be checked out for as little as 50p per week. Much better than going to the video shop!
An Outing to the Playground
Young children love playgrounds. Mums get to hate it: watching your kids do the same thing over and over can get tiresome and tedious. Make it fun for everyone by inviting a friend with children the same ages as yours, that way you can have a natter while they play.
If your children get bored, visit a playground they haven't been to before, one with something special like a paddling pool or children's petting zoo. It's kind of like being in a toy shop for the first time: everything will be new and exciting. Take a picnic and make a day of it.
Having Fun at the Park
Many kids love kicking a football around a park, or just running around to let off some steam. It's good for them and good for the parents too, as it calms the children down and helps them sleep better in the evenings.
If your kids are less than thrilled at the idea of yet another park outing, think of something fun for them to do. Take a Frisbee, plan a Teddy Bear Picnic, or go on a Nature Walk. Alternatively, bring along some sketchbooks and coloured pencils and have them draw what they see. Hang the prints up at home when you get back to show their friends – and encourage them to want to do it again!
A Bit of Culture
Most museums are free, and many offer hands-on activities that kids love. Ones that charge often have special days of the year when kids can get in free, or offer discounts. Look around before you go to make the most of your visit, and see if any special entertainment is on offer.
If your little ones get tired of visiting the Science or Natural History Museum for the tenth time, why not introduce them to a bit of culture and take them to see some modern art? Take the time to explain what they will see ahead of time to keep their interest, and take a sketch pad along for them to draw the pictures or paintings they love best.
Top Tips
Cheap days out can backfire if you end up paying for expensive food and drink. Carry a backpack full of fruit, sandwiches, cereal bars and bottled water to make the most of your day. Once the kids are full, buy an ice cream from the local vendor – a lot cheaper than purchasing an entire meal.
Discounts are often available when it comes to amusement parks, aquariums and other special days out. Keep an eye out for supermarket vouchers, newspaper tokens and other money-off ideas. Don't pay full price unless you really have to.
Kids love spending time with their parents, and you can make a fun day out of almost any experience. Children love it when their parents are in a good mood, and if you go somewhere with a specific goal in mind – buying a present for a pound, spotting three people with purple t-shirts – the game and thus the entire day can be fun.
Often, inviting a child's friend along for the ride can add immeasurably to their fun. See if a neighbour child can come along, or ask a good friend of yours who has children to accompany you.
Plan an exploration day, and visit a part of town you have never been in before. Make it exciting and the kids will love it. Take along snacks to make the outing as cheap as possible.
Cheap family thrills are possible if you take time to plan ahead with a little forethought and a lot of creativity. Kids don't know the difference between a meal that costs £1.99 and one that costs £30. If you put on a happy face and have a positive attitude about the day in front of you, they will too.
You might also like...
Kids can easily become bored by museums and galleries - not just young ones, but teens, too. Although these are great free sources of entertainment and learning, kids need downtime, too, where they can just run and play. That's why the parks and playgrounds are so vital, as long as the weather is good. For every cultural visit, balance it with playground time to keep the kids happy. They'll pay more attention in the museum, too.
Joan
- 25-Jun-12 @ 9:48 AM