Make a Summer Scrapbook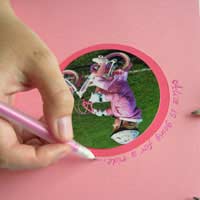 Sometimes it seems that the summer holidays drag on seemingly forever – at least for us parents! So when the weather starts to heat up and your children start demanding that every day be filled with new and exciting activities for them to enjoy, there's no better time to start making a summer scrapbook.
Scrapbooks not only help preserve memories for years to come, they're also a fun and educational way for your children to fill up those days when you have nothing planned. In fact, they might start to look forward to an empty day – if they can fill it up with scrapbooking ideas!
What is a Scrapbook?
A scrapbook is much like a photo album, a way to preserve memories and images of special days and special times in our lives. Scrapbooks can contain as little or as much information as you want. Remember, the fun of making one is as important – if not more so – than the completed project itself.
Let your children take the lead in deciding how they want their scrapbook to look. A birthday party page, for example, can be plain and simple, with a drawing of the birthday cake and a short caption underneath. Or it can have a photo, a drawing, an attached invitation, an empty balloon and a piece of wrapping paper - with party confetti glued on top. You are aiming for anything that will turn a blank piece of paper into a keepsake.
Basic Scrapbook Supplies
Scrapbook or plastic pocket album
Paper
Crayons, markers or coloured pencils
Scissors
Glue
Sticky tape
Wrapping paper
Collected items such as ticket stubs, party invitations, brochures.
Summer Scrapbooks for Young Children
Depending on your child's age, ability and attention span, your summer scrapbook can be a week-long project done at the end of the summer hols, or a summer-long project completed one page at a time.
Your first step is to talk with your children to find out what type of scrapbook they have in mind. If they wish, design the scrapbook around a specific event, such as a week-long holiday to the beach or trip to Euro-Disney. If you find they work better in short bursts of energy, each page can be about a designated activity, such as a birthday party, a visit to the zoo, or an outing to the park.
With younger children, often a simple scrapbook is best. The easiest way is to purchase a plastic pocket album from your local newsagent or stationary shop, so that each page can be done individually – and redone, if needed. Complete each page on a piece of plain typing or coloured paper, then slot in as completed. This way, if they ruin a page it doesn't matter. Just start again!
Summer Scrapbook Ideas
If you run out of ideas, you can always look online for inspiration. Scrapbooking is big in America, and there are plenty of U.S. sites with inspirational lay-outs centred around a variety of themes. Don't be put off by the fact that they expect you to purchase items at scrapbook stores, as almost all supplies can easily be found at home.
Be as low-key or as lavish as you wish. Some children prefer to just have simple drawings with written captions underneath about their activities. Others prefer to use digital photos, ticket stubs, a picture of the new gorilla at the zoo – anything that reminds them of that special day.
Here are some great ideas to get you started:
Make a photo collage. Takes lots of digital photos, print the best and design pages and lay-outs around them.
Shiny papers add interest. An uninspiring page can be easily spiced up by adding pieces of wrapping paper, kitchen foil etc.
Make use of pre-fabricated backgrounds. Incorporate photos or drawings laid on top of themed backgrounds. Paste pictures of the kids at the zoo, for example, on top of the zoo's latest brochure or newsletter.
Use nature's bounty. Add texture and colour to your pages by gluing a bit of nature in your book. Add leaves, twigs, even grass to make every page unique.
Incorporate what they love. Does your child love to paint? Let the background be a beautiful watercolour, or a finger-painted masterpiece. That way you can combine two activities in one.
Use things from around the house. Buttons, scraps of coloured or patterned fabric, pipe cleaners, pretty pieces of newspaper – anything can be used as scrapbook material.
Scrapbooking is a relaxing activity that any child will love, and the result is a beautiful keepsake both you and they will treasure for years to come. You can even turn your scrapbook into a school project, or use it as the basis of one. Just be creative!
You might also like...