Keeping Kids of Different Ages Busy on Holiday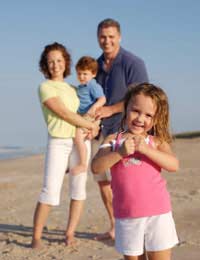 Planning a summer holiday can be difficult if you have children of varying ages and interests. You can't please everybody all the time, but there are clever compromises that can ensure most of the children are happy at least most of the time.
Start your summer holiday off right by having a family discussion about where you plan to go, and being honest about the advantages and disadvantages for everyone involved.
Your teenager may be bored playing on the kiddie swings for an hour with his little sister at the caravan playground, but he'll feel better knowing that the next day the whole family will visit a waterpark that has activities for all ages.
On the bright side, however, reassure your kids that you will do all you can to make sure everyone's needs are taken care of. If necessary, have a reward system in place to reinforce sharing and good behaviour. That means spending an extra half hour in the kiddie pool if your three-year-old waits nicely while his ten-year-old brother goes on the slides with Dad, or allowing your teen bonus Nintendo or Gameboy time if he agrees to see a children's cartoon with your seven-year-old at the cinema.
Share the Fun
Thinking ahead with everyone's interests in mind is another way to share the fun. Having a group objective, with different activities for different children, can help. If you visit a theme park, for example, choose one that has both a kiddie section as well as thrilling rides for older children. Split your group into two halves, if possible – with one adult per group – and meet up together for meals and snacks at set times.
Another option is, if budget allows, to find a resort with a Kids Club. Supervised on-site childcare means the little ones can happily spend a day painting and sticking while you take the older ones sailing or water skiing for the afternoon. Everyone's happy!
If you are really organised, you could also travel with another family who have children of similar ages. That makes it easier to break off into two groups of older and younger kids, with enough adults to go around. Alternatively, take grandparents or other extended family members with you to keep an eye on some of the children while you are off on an activity with others.
It may also be worth giving older children chores or entrusting them with an important task to make them feel special on holiday. For example, let them use your digital camera to record the entire trip, then help them make a special album at the end. Older kids won't mind watching their younger siblings spend time mixing with the cartoon characters at EuroDisney if they are entrusted to take photos of the entire affair. Involve everyone.
Finally, choose activities that everyone enjoys. Beach holidays are great in that individuals of all ages can easily find something to occupy themselves: Junior makes sand castles, Mum reads a book, the older ones go body boarding or swimming. Make it easier on yourself and choose something that's sure to please everyone.
Bring It Along
It can also help to bring activities for children to engage in which are easily transportable. So if your teen is horse-riding for an hour, your five-year-old can happily colour in a cafe with you while you wait. It makes allowing the other children to do their own thing so much easier.
Another way to keep small children happily entertained for a few hours is to sneakily save half the presents they get in party bags throughout the year. Then, when the older kids are busy doing something, pull out the bag full of cheap trinkets. They'll be thrilled and excited at having new toys to play with, and you'll have an hour of sanity.
Top Travel Toys
Finally, here is a list of portable toys to make your life easier:
Magnetic doodle board with pen
Nintendo, Gameboy etc
iPod
Colouring book and crayons
Sticker books
Library books or magazines
Barbies, small cars or other toys
Travel games (chess, draughts, scrabble etc)
Videos/DVDs for down time
Keeping children of all ages busy while on holiday may be challenging, but it shouldn't be an insurmountable task. With a little creativity and a bit of forethought, you can make sure all your kids are happy, at least most of the time. Which means you'll be happy as well!
You might also like...