Choosing a Family Friendly Hotel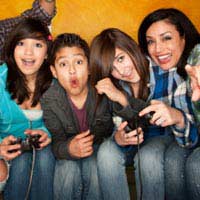 There is nothing worse than booking a holiday with children, especially babies and toddlers, and discovering that the hotel doesn't really cater for kids. In fact, some hotels make people with children feel like they have no right to be there at all, which isn't a great feeling when you're paying good money to stay somewhere.
So how can you ensure that your hotel not just tolerates children, but actually encourages them to visit? You need a family-friendly hotel with a restaurant that accepts dinner bookings before 8pm, has family rooms or adjoining rooms, and offers age-appropriate amenities for everyone in your party such as high chairs and cots, games rooms and playrooms.
In fact, a hotel that has something for every member of your family is ideal. So you need to know what you are looking for before you set out, to avoid disappointment as well as the disapproving glances of the other hotel guests when your three-year-old dumps her bowl of pasta all over the table!
Checklist
Here are just a few things you can ask when booking a family-friendly hotel:
Adjoining rooms. Some hotels only offer rooms next door to each other, which isn't ideal if your children are young. Unless you want to be in one room with a child while your partner sleeps in another, a hotel with adjoining rooms or a large family room is a better – and safer – option.
Playroom or games room. Something for the little ones can give you a welcome break, so look for a hotel that offers a playroom with age-appropriate books and toys for young children. An arcade or Wii suite for the older ones is ideal.
Family-friendly eating. It's no use booking a hotel when the earliest dinner reservation you can get is for 8pm, when your oldest child is only four. Make sure there are children's menus available as well – unless your toddler likes eating frois gras, and you like paying for it!
Children's activities. Some hotels actually offer themed activities for kids, such as Easter egg hunts, summer walks and arts and crafts sessions. You know your kids and what they want, so ask around. If you're really lucky, you might find a hotel that even has a kid's club open during the summer.
Babysitting and/or baby-listening services. Not everyone opts for this option, but if you want a night out with your partner, babysitting can make a world of difference in an unknown city. Some people prefer just a baby-listening service, so they can enjoy dinner in the hotel sans enfants.
Baby paraphernalia.Your trip can be a lot easier if the hotel can provide a cot, high chair and even bottle steriliser, which some do. An in-room mini fridge is important if you have baby food or milk that needs to be kept cold.
Top Tips
Here are some more general top tips to make your holiday in a family-friendly hotel stay that more pleasurable:
Location is also important when it comes to hotels. If you are planning to spend a week on a city break and you have small children, don't choose a hotel too far form the action. Your children will get tired out walking to and from the hotel to see the sights. A centrally located hotel is preferable, especially if you need to come back for naps or just to recharge batteries.
Larger chain hotels and smaller individually-owned ones usually make more of an effort when it comes to being family-friendly. Bed and breakfasts often encourage couples to visit who are looking for a bit of romance, and they may not appreciate a crying baby in the next room.
Book your hotel directly over the phone and make sure you ask lots of questions first, before deciding where to stay. Ask about restaurant arrangements too – not just the room – unless you plan on eating all your meals out.
Keep in mind that if you have three or more children and a family suite is not available, many hotels will make you book two rooms, even if you are happy to crowd into one room. This is done for legal safety reasons. With this in mind, a family suite can be a much cheaper option.
Staying in a family-friendly hotel is vital if you want to make your summer family holiday restful and relaxing. Do your research beforehand so you know what to expect, and ask plenty of questions before you book. Bon voyage!
You might also like...