Packing for the Family Holiday: Checklist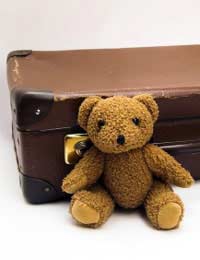 Packing for a family summer holiday is a job that is often dreaded - but needn't really be that taxing. Packing for yourself can be fairly straighforward and simple, but when you have to make sure you have everything you need for the kids as well as yourself, it's a lot more tricky.
Clothes to Carry
Lugging five enormous suitcases for a week-long family holiday to Mallorca will weigh you down and make travelling all that more difficult – especially when two suitcases (with wheels) will do. Unless you have 12 kids, packing light is packing right.
As a rule, three changes of clothing per person is more than enough (with a few extra socks and pants thrown in). If you are staying at a villa or holiday home, find out in advance if there is a washing machine and dryer at your destination, and bring along your own washing powder if you or your children have sensitive skin/eczema or allergies. If there are no washing facilities, you may have to bring extra clothes - or be prepared to wash items by hand.
Here is a basic checklist of what you should have:
Warm jumper and/or light jacket for chilly evenings
Jeans and/or trousers
Short and t-shirts, tops
At least one nice outfit for evenings out- more if you like to dress up!
Sandals and trainers (NOT new, uncomfortable ones)
Swimming costumes
Underwear (including socks) and nightwear
Any other specialised clothes (rock-climbing gear, camping gear, rainwear etc).
When packing, it is always a good idea to pack once, then come back the following day and pack again. Do this several times and keep knocking off things you and your family don't need. If you are going someplace where the shopping is cheap and fun – and you like to shop – take even less and plan to wear the newly purchased items.
If you are flying, be aware of luggage allowances and make sure your luggage conforms to all size and weight specifications, including hand luggage.
Toiletries
There's no need to pack the entire contents of your bathroom, so try and consolidate everything your family needs. Grown-ups and children can share soap and shampoo, and the children's moisturiser should work equally well on adult skin. However, you may need to take extra medicines - just in case - depending on where you go and their availability.
Here is a basic checklist of toiletries and medicines you may need:
Toiletries for every individual: toothbrush, comb etc as well as soap and shampoo
Painkillers for both children and adults
Medicines for tummy upsets
Sunscreen, including before and after-sun care and moisturisers
Insect repellent
Cold medicines - and digital thermometer
Personal items (cosmetics, sanitary products, deodorant, dental floss etc)
Baby Kit
If you have little ones, find out what items will be supplied before you go. If there is a cot, highchair, baby bath and cot linen, all you need is a steriliser. Learn in advance if you can buy baby food there or what you will need to carry with you. Same with nappies. Why cart around three boxes for a two-week holiday to Spain, when they sell decent ones at the local shop?
Day Trips
If you plan to go regularly to the pool or beach or on days out, make sure you pack along a bag or backpack that will accommodate all your family's belongings. It may prove worthwhile to have this pre-packed inside your suitcase - that way you'll know everything fits, and it will also be a valuable time-saver when you arrive at your destination.Make sure you include everything you need to keep your children safe, entertained, clean and happy. This includes:
Change of clothes for each child just in case someone pukes/wets/spills. And don't forget a change for adults as well, just in case someone aims in your lap...
Wetwipes
Drinks and snacks
Toys/games/books to both entertain and comfort
Top Tips
Give each child aged three and over a backpack small enough for them to carry comfortably and have them fill it up themselves with things to keep them busy en route. Colouring books, crayons and a cuddly toy are good for young kids, older ones may want books, Nintendos and iPods in their backpack.
If your summer holiday is abroad, make sure your passports, tickets and other travel documents are all together in one safe place - and make photocopies of them before you go, safely behind with a friend who is easily contactable.
Some people swear by "rolling" their clothes in small bundles inside their suitcase rather than folding them, saying it is both easier and a great space-saver. If you roll clothes in tissue paper, they will appear less wrinkled when unrolled.
Packing for a family holiday isn't brain surgery. The key to a stress-free holiday is to have the right kit, but to keep it light. Nothing spoils your time more than rooting through hundreds of clothes every morning to find that elusive t-shirt, or having your spartan cottage look like a laundry room. Saying that, leaving behind important items like swimming costumes can ruin your holiday plans...
You might also like...