Stress Free Travel With Kids: Plane and Train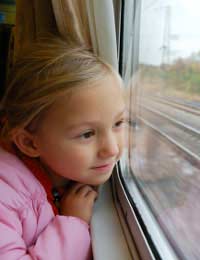 Adults often think of plane and train travel as simply the way to arrive at a destination. But for children, travelling in itself can be one of the most exciting parts of the trip. They might enjoy it so much that you may discover have a budding pilot – or trainspotter – in your midst!
The Plane: Before You Go
Flying. Parents often dread it, kids usually love it. Follow our tips to make the entire experience peaceful and relaxing for everyone...
Book the best seats in advance. With small children, this is something to consider as the last thing you want is to be separated from your children, so if you can contact the airline and reserve your seats. If you have several older kids, nip squabbles in the bud by reserving two window seats in front of each other, with parents sitting next to each child. If possible avoid changing planes, direct flights can make life a lot easier on the children – and the parents. And if you are planning to visit Orlando or any other US destination this summer, remember that US regulations require you to put all your luggage through customs when you change planes, which is a huge hassle.
On the Plane
Long-haul flights can be nightmarish with children, and even shorter flights can turn nasty when things go wrong. While you can't guarantee that your children won't throw up or have a temper tantrum, there are things you can do to avoid the worst from happening.
Take a change of clothes for every child – and yourself.
Bring plenty of snacks – and empty drinking bottles. Because regulations now prohibit bringing liquid on a plane, take along a sippy cup or drinking bottle and fill it up when you get on board.
Have the right medicines with you. If your children are prone to motion sickness, give them the right dosage in advance. And have plenty of children's Calpol with you – sometimes the fluctuating air pressure causes headaches and earaches in little ears, so a sweet to suck is also a good idea. A small first-aid kids with plasters and antiseptic wipes is also helpful.
Let them bring toys and games. A small backpack with crayons, colouring books and a favourite toy can be a lifesaver – unless you want to sing Wheels on the Bus 45,000 times. Older kids may want their Nintendos, iPods and/or journals.
Prepare a bag of tricks – just in case. A couple of brand new sticker or colouring books can make the journey less stressful for everyone.
The Train: Before You Go
Train travel can be an exciting and educational way for children to experience the environment in which we live. If you can live without a car at your destination, train travel also makes a lot of financial sense.
Learn about discounts. A Family & Friends Railcard (formerly called the Family Railcard) can save you loads of money. It costs £24 and will give you a savings of 1/3 off every adult ticket and 60 percent off kids' tickets throughout Great Britain. A new three-year Railcard is also available, which can save you even more money. Other countries offer child-friendly fares as well, so ask before you go.
Look for the most direct route, this is not only to avoid the hassle of changing trains but also to minimise the risk of losing all your luggage! If possible, reserve window seats and/or seats facing one another. A table in the middle is great for eating as well as colouring, drawing and playing board games or cards.
Do a trial run first. This is very beneficial if you are planning a very long train journey. Take the kids on an hour-long ride to visit a museum or heritage site in another town. This will also give you the chance to go over safety rules and guidelines ahead of time.
On the Train
Don't be overly ambitious with the time. Kids get bored easily – even older ones – and they may need plenty of distractions on the way. Take plenty of snacks and try to visit the cafe car from time to time to stretch your legs and alleviate boredom.
If you are travelling from country to country, take along a map and plot your route along the way. Not only fun, but will also help stop constant cries of "Are we there yet?"
Bring a travel pillow or two, as well as a travel blanket. Trains are often chilly, even in summer, when the air-conditioning is turned on high. And you don't want the kids to get a cold before the holiday even begins.
You might also like...