A Family Holiday on a Budget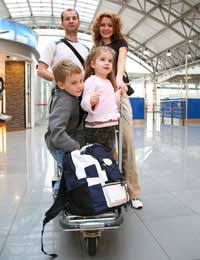 Going away together as a family needn't cost the earth. While it would be lovely to whisk the kids away on a Tanzanian safari or fancy Florida extravaganza, you can have just as much fun close to home or on a discounted hol a short flight away. After all, the important thing is being together as a family – that's priceless!
Not Breaking the Bank
Family holidays are meant to be enjoyed, but often they have a way of causing even more stress. Here are some tried-and-tested ways to make sure your wallet doesn't suffer too much...
Plan Ahead.
Book either very very early or, preferably wait until the last minute (see below) for the best deals. You may not be able to get the exact hotel you have in mind, but you'll be sure to come up with something the whole family will enjoy.
Budget Carefully.
Looking for all-inclusive deals can help you do this – you never know how much food and entertainment will cost, especially abroad!
Plan Everything Around a Freebie.
If there is a free concert or fair taking place in another city, try to structure your hols around that. Take a tent, book a cheap hotel or stay with friends.
Use Coupons Galore.
These days almost everything has its price – and often that's in voucher. Even supermarket loyalty cards offer free hotel stays. Look around and aim toward summer.
Pack it.
Don't rely on restaurants for all your meals. Bring along a picnic basket and buy supermarket food instead, limiting eating out for treats only.

9 Top Tips for Cheap Hols

Go last-minute. If you have relative flexibility – and courage – this can be a great bargain. Package holidays can more than halve in price if you are willing to wait.
Share with friends. Book a cottage or large caravan with friends and split the price. If they have kids of their own, that's a bonus.
Go camping. Holiday camps often offer places in exchange for collecting newspaper tokens. Or if you prefer something less regimented, borrow a tent and set up camp somewhere remote, away from the masses. Farms also often offer good family deals.
Visit friends or relatives. Remember your Aunty Agatha – who lives in a tiny cottage near the sea? This would make a great time to pay her a visit! And what about your former next-door neighbours who now live down the road from that fantastic amusement park in the North?
Travel during term-time. Most schools frown on this practice, but if your children are not yet in school make the most of it. Flights go up astronomically during term-time, so if you can depart a few weeks before the schools break up for summer you can save loads.
Venture off the beaten track. Some airlines offer free flights to some Eastern European and Scandinavian cities – you just pay the tax. Often, that means less than £100 total for a family of four. Stay in a family hostel or camp and the world's your oyster. Book it now!
Cruise it. Many cruise companies are suffering these days, offering deals that are half-price – or less. Going on a three-day cruise somewhere will have all your transport, food and accommodation covered. All aboard!
Two for the price of one. Book a two-for-one-night hotel, arrive before check-in for a swim, leave late two days later. Even if it's a business hotel on the side of a busy roundabout, if there is a pool the kids will love it - and it should be a lot cheaper than somewhere located in a more posh area.
Consider a house swap. These can make life especially easy if you have very small children who require a lot of kit (cot, highchair etc) and you swap with a similar family. Contact the NCT (National Childbirth Trust) for details on their programmes. Some families end up swapping with the same people year after year.
Make the most out of your family holiday this summer and look for deals. Remember, your children will have fantastic memories of being together as a family and enjoying each other's company, and where you go doesn't really matter. Bring along plenty for them to do - books, crayons, DVDs, board games - in case of inclement weather, and have fun!
You might also like...