Planning the Perfect Holiday With Kids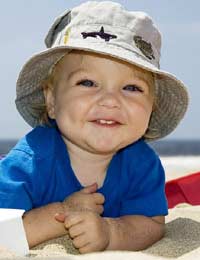 Why is it that going on a summer holiday with children is often more stressful than staying at home? Luckily, it doesn't have to be that way. With a little forward planning, you can ensure you have the family holiday of your dreams...
Set a realistic budget. In today's economic climate, there is every chance you will have to pare down your holiday plans. But with a little creativity, that shouldn't matter.
Try to plan some of your time around free activities, such as fairs, exhibits and outdoor events. Set yourself spending limits and stay within them, to avoid feeling stressed while you're away. Remember, it's spending quality time with family that really counts, not paying for every single activity on offer...
Plan Ahead
This is especially important if you are planning a holiday abroad, as plane tickets are much cheaper when bought either a year in advance or at the last minute. Holiday accommodation also fills up fast, so don't be caught short. Book early – or very, very late, as long as you don't mind not getting exactly what you want.
Make sure that you take every child's age into account. Kids of different ages are interested in different things. Younger children, up to age five or six, like to focus on discovery. They are enthralled by activities such as visiting aquariums, hands-on museums and zoos or wildlife parks. Slightly older children, aged six to ten, often look for fun-filled holidays. Amusement parks, camping trips, water activities are great for them – anything that will keep them occupied. And even older kids tend to like adventure activities that may not be suitable for younger ones.
If you can break off into groups to do separate things – one adult to one or two children – that's great. If not, you may want to save some activities for another time.
Reserving a child-friendly accommodation might seem obvious but it is something you must remember to do, this is especially important with very young kids. Nothing can ruin a holiday more than worrying if Junior will smear food all over the expensive white villa furniture, or having a hotel room with a dangerous balcony. Also, reserving accommodation that caters to young kids may save you the hassle of lugging a travel cot or highchair with you.
Research well before you go. Few things are more disheartening than promising a child a visit to a theme park while on holiday, only to get there and find it's closed for refurbishment. Do your homework to avoid disappointment.
Packing right for your family trip can be done with a litte forward thinking and can make all the difference while you're away. Take only the essentials, but make lists beforehand of what you will need – and don't forget to include books, DVDs, crayons, colouring books and games for early evenings, or when the weather gets bad. Carrying around excess heavy luggage can ruin your holiday spirit.
Don't have unrealistic expectations. You never know what will happen with kids – they may love an activity you find boring, and be completely unfazed by something you find really special. Keep an open mind and try to enjoy every minute – the good, the bad and the ugly!
Top Tips
Wherever you go and whatever you do, these tips will make your whole experience a lot easier:
Take along a box containing scissors, coloured paper, sticky tape and glue. At the end of the day, before the children get into bed, encourage them to each put together a page of memories that will be put into a scrapbook at the end of the trip. Quiet time at the end of the day provides the perfect opportunity for children to remember what they have learnt and seen – and also to wind down after a busy time.
Don't feel you have to be on the go every minute. While it is often tempting to cram a lot into every single day, small children in particular can suffer from sensory overload. Sometimes a day of doing nothing but colouring and maybe having a leisurely swim is all that's needed!
If you are staying in a villa, hotel or caravan with cooking facilities, alternate eating in and eating out. It will keep down the boredom factor - and save you loads of cash!
Kids Clubs are gaining in popularity, so if you are staying at a resort that offers to look after your children for an hour or two, take advantage of it. A small break can recharge all your batteries – and time off from your kids will help you appreciate them even more.
Summer holidays should be a time for the whole family to get together, relax and enjoy each other's company. With a little advance planning, you can make your time together as stress-free as possible. Relax, try to concentrate on the present and enjoy yourself! Before too long, your kids will be going off on holiday by themselves...
You might also like...