Why it's Important for Kids to be Active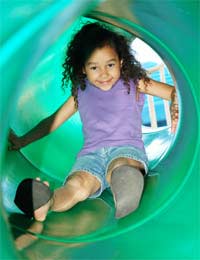 For busy parents, it can be tempting to allow your children to spend hours and hours in front of the telly or on their computer, Nintendos and Gameboys. But keeping physically active is important, for both their mental and physical health. As a parent, it's up to you to encourage they keep fit and healthy – and summer is the best time to start.
Active Kids Means Active Adults
You may think children need to stay active just to burn off energy. But studies have shown that active children mean active, healthy adults. People who stay physically active live longer because they have lower levels of cholesterol, are less likely to suffer diabetes, a stroke or heart attack, and are less inclined to become obese. They also sleep better, have more energy and generally feel happier.
Kids who are active in childhood are more likely to stay that way, as behaviour patterns are set early in life. And active kids have better concentration, perform better at school, are able to manage stress and anxiety well and have higher levels of self-esteem.
Activities for Keeping Fit
Toddlers can start becoming active from an early age by playing silly games with their parents, such as rough-housing, chase the monster or hide and seek. Slightly older children can benefit from being taught certain basic skills such as skipping, playing catch, using a skipping rope and jumping; activities they find fun and challenging.
From age six to eight children can build on the skills they already have, learning games and sports that are specifically designed for their ability and age. From age nine to 12 they can build again to refine those skills, as well as regular cycling etc. Older kids should be encouraged to take an active interest in specific sports, while all children should be encouraged to walk more instead of relying on their parents' cars or public transport.
Keep in mind that any type of physical activity that your children enjoy is important – it doesn't have to be rigorous exercise down the gym. Specialists recommend that encouraging children to specialise in one sport early on isn't a good idea, they need to experience lots of different things before deciding what suits them best.
Tips for Raising Healthy, Active Kids
Limit television and computer games to two hours or less daily.
Plan family activities that involve getting active, such as biking and swimming
Enrol your children in sports clubs you know they enjoy.
Choose birthday and Christmas presents that encourage fitness and exercise, such as skipping ropes and balls.
Suggest that bored children engage in fun, outdoor activities.
Make healthy, nutritious eating a priority.
Set a good example – they will learn from you!
It's important that we teach our children to get fit and stay active from an early age. Not only is it good for both their mental and physical health, but it also can set the foundation for hobbies and interests they will enjoy well into adulthood. So get your kids off the couch this summer, and start having fun! Developing a family-fitness lifestyle couldn't be easier...
You might also like...