Extreme Sports for Older Children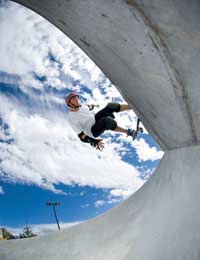 Teenagers and even some pre-adolescents are attracted to extreme sports for a variety of reasons. They're fun, they get their adrenaline pumping, and they're seen as being totally cool. For kids who rebel at the everyday rules involved in team sports, they also are a way of expressing their innate individuality and talent.
What is an Extreme Sport?
Extreme sports is a term coined to define any type of sport that has a certain inherent danger level, from kayaking to sky-diving to whitewater rafting. They are designed to get the blood pumping and the adrenaline flowing, and to push new challenges and boundaries like never before.
Some teens are natural thrill-seekers and seem to need to chase an adrenaline rush almost daily. Extreme sports can provide a healthy mix of achievement and thrills for such kids, providing a worthwhile, wholesome alternative to a summer spent looking for more unnatural highs.
Your teenager or 11 - 12 year old might want to do a day course in a specific sport to try it out first, or may slowly build up competence on his/her own, as in the case of skateboarding or inline skating. Summer camps are also available that offer extreme sports as the primary activity. Such camps offer alternative to traditional marshmallow roasts and campfire singalongs, with activities such as offroad four-wheeling and BMX skills.
Benefits of Extreme Sports
All types of sporting activities provide physical exercise, which is vital for a developing teen. Extreme sports, by their very nature, are non-traditional and may encourage a teen to excel and thus enhance his or her self-esteem.
Extreme sports develop both mind and body and can set a teen apart from his or her peers in a positive way. As extreme sports almost always praise individual merit, as opposed to working in a team, they can also be a way for some children to succeed where they have failed in the past. It also encourages normally complacent teens to push themselves to the limit.
Extreme Sports Safety
Follow these simple rules to make sure every sporting activity is safe:
Make sure you have the right gear
Only do a sport under proper supervision
Get the right training beforehand
Only practice the sport in the correct locale
Always observe rules concerning proper weather and other conditions
For specific popular extreme sports, ways to minimise the danger include:
Skydiving. Most fatalities are a result of error on the part of the jumper, so make sure you do an accredited course and only jump with an accredited outfit.
Luging. Racing a one or two-person sled face up and feet first. Only attempt on proper tracks with proper training – don't try this at home!
BMX Biking. A form of cycling (Bicycle Motorcross) in which the bikes have small wheels and are designed to move FAST! Always wear a proper safety helmet, keep your bike in good condition and don't attempt anything too wild.
Skateboarding: Buy the right safety equipment, evaluate all surfaces properly, especially when doing tricks, and learn how to fall correctly before attempting anything else.
Water-Skiing. Always wear a life jacket, check the towline, maintain a reasonable speed and have someone other than boat operator spot.
Snowboarding. Have lessons to learn how to maintain a proper stable stance and how to fall correctly before setting out.
Rock Climbing. Have the right gear, proper training and don't attempt anything stupid! Injuries happen when climbers are too confident, so play it safe.
Wakeboarding. Riding a wakeboard behind a boat, a bit like water skiing. Same safety tips apply.
Bungee Jumping. ONLY do this with an accredited firm that has a spotless track record.
Extreme sports can provide a lifeline for teenagers who are addicted to thrill-seeking or adrenaline highs, or who simply don't like the regimented nature of team sports. If done under the proper supervision with the right equipment and training, such activities can provide adequate stimulation to keep them busy the entire summer – and beyond!
You might also like...