Sports Activities for Teens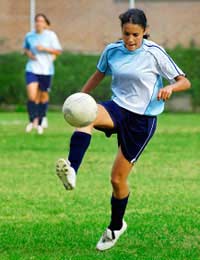 Teenagers and sport are an incredibly healthy mix. Physical activity has amazing benefits for both mind and body, and developing teens can take advantage of both. In fact, studies have shown that teenagers who play sport regularly, especially with their parents, have higher self-esteem compared to those who don't, or those who are more sedentary overall.
Teens who take part in a wide variety of sporting activities are also at much less risk of getting involved in drinking, drugs and other unsavoury behaviour than those who play a lot of video games or watch a lot of telly instead.
So why not get your teenager off that couch and on to the playing field this summer?
Team Sports
Many teens like doing activities in groups, and sport is no exception. Team sports not only help develop physical prowess, strength and coordination, but they also build leadership and other social skills, teach good sportsmanship and instill a sense of fairness and equality. They also are a great way for teenagers to develop a healthy respect for authority, develop confidence and learn to manage stress better.
The key to success in team sports is to find one that both interests and challenges your child, then stick with it. It's no use enrolling a teen in a sports course or camp to fulfil their parent's dream. If your children are not genuinely interested in the sport themselves, making them play will only backfire.
Of course, that doesn't mean that your teen shouldn't try out new activities, but pushing them when they obviously don't want to be pushed isn't a good idea.
The most popular team sports for teenagers are:
Football
Volleyball
Basketball
Netball
Cricket
Rounders
Lacrosse
Life Sports
If your teen balks at the idea of joining a team, there are a lot of other sporting activities which encourage more individual participation. These type of sports are better for children who prefer to do their own thing, and who like to progress at their own pace. Sometimes, a child who has felt intimidated by teen sports may find a life sport gives him or her the space to blossom.They include:
Swimming
Golf
Squash
Tennis
Weightlifting
Gymnastics
Martial Arts
Skateboarding
Preventing Sports Injuries
Getting hurt doesn't have to be part of the game. Teen sports injuries are not uncommon, so follow these safety tips to stay in the pink:
Warm up properly before beginning any sport.
Always follow the rules, especially in team sport where others expect you to.
Don't be macho – if you're hurt, wait until you get better.
Wear appropriate safety gear. That means helmets for cycling, skateboarding and inline skating, eye gear, facemasks and goggles.
If your teen wears prescription glasses, it's a good idea to buy polycarbonate ones for use on the field.
Boys should always wear a protective cup for hockey, football, basketball etc, and should wear a proper athletic supporter when running, and always make sure you have the right footwear.
Wrist, knee and elbow guards are important for skaters and others. Mouthguards are also important in some contact sports.
Participation in sports gives teenagers the type of strenuous physical workout their developing bodies need on a regular basis. Only five percent of teenagers were overweight in 1980, according to statistics kept at the time. Now it's estimated that more than one in five teenagers is considered overweight, although that is a conservative estimate.
Interestingly, sports participation doesn't only benefit the body – it can also have a positive impact on your teens' academic achievement. Students who take part in sports regularly often have better self confidence, and see their grades improve dramatically.
It's important for teenagers to be fit both mentally and physically – and to stay that way. Start them early, and they'll be on their way to healthy adulthood.
You might also like...