Yoga for Kids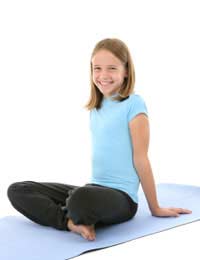 Yoga is an ancient practice that stresses bringing balance into our lives. For many people, the benefits of yoga are self-evident: increased flexibility and coordination coupled with feelings of an inner peace and calm. So why not bring those benefits into the lives of your children?
Kids today are often over-scheduled and face many different types of stress, including school and homework worries, self-image problems and looming exams. That's why yoga, which combines postures and dynamic movement with breathing exercises and meditation techniques, has rapidly gained popularity as a way for both children and adults to exercise, focus and relax.
What is Yoga?
Yoga, which means "union" in the Sanskrit language, is about creating balance in the body through flexibility and strength, accomplished through a series of posture exercises. While individuals go through series of postures during a yoga class, their approach to the poses changes from day to day, so that practicing yoga should never become boring or repetitive.
Teachers of yoga vary their teaching and their attitude toward the different posture depending on the type of yoga they have learned, whether it be hatha yoga, ashtanga or vinyasa. Chanting, breathing exercises and meditation techniques are taught alongside, to develop a feeling of well-roundedness and calm for both body and mind.
Yoga Classes for Kids
Most children can start doing a variety of yoga poses on their own from the age of three, but children can actually start learning yoga earlier with a mummy and baby yoga class. These classes are a good way for parents to bond with their children, and also help encourage physical closeness between the two.
Children a bit older will benefit from classes on their own. Most are not just about flexibility and stretching, they also help encourage body awareness and coordination. Look for one that has a fun, creative approach to yoga, which makes use of animated poses (see below) and puts an emphasis on the mind and positive thinking as much as body.
A good yoga class for children will promote imitation of both animals and nature, use creative expression and storytelling, and incorporate art, music, games and laughter. It will stress the non-competitive nature of yoga, and help children respect themselves and others.
Kids' Yoga at Home
If you prefer to practice yoga at home, starting off isn't difficult. Follow these steps to set you and your kids up on the right path:
Get a good yoga book. Plenty of books about yoga for kids are out there, many with drawings of the poses so your children can visualise what they are trying to achieve. There are also fun picture books for small kids which incorporate yoga learning into a narrative story.
Buy yoga mats. These flat, spongy mats roll up fairly small and can be bought cheaply from most sporting goods outlets.
Choose music your kids like. Nothing can put a child off more than exercising to music they hate. Let them have a say in choosing relaxing, soothing tunes.
Get the right gear. Any non-restrictive clothing will do, something loose that will allow for full body movement. Shoes aren't required.
Practice simple poses. Using the books you have purchased, go together through a series of poses, giving encouragement as much as possible (see below).
Round up with relaxation techniques. When you are done stretching, do poses which encourage relaxation to wind down.
Make time for meditation. Talk to your children about anything bothering them in their lives, and make time during your yoga session to think through problems through meditation.
Simple Animal Poses
When you incorporate animal sounds, all children will love to get involved!
Cobra. Lie down on yoga mat on tummy, with hands near chest. Push upwards into a backbend. When back is arched, make a loud hissing noise like a snake.
Cat. Get down on hands and knees. Reach spine towards ceiling as high as possible, so that the back is arched like a hissing cat. Make angry miaowing noises.
Lion. Crouch down on your shins with your knees bent. Poke out your tongues as far as you can. Make a loud roaring noise as your breathe in and out as loudly as possible.
Cow. Get on hands and knees, then push your tummy toward the floor, while chin and tailbone strive towards reaching the ceiling. Moo loudly like a cow.
Children of all ages can benefit from taking yoga, from small babies through to toddlers all the way up to teens. It will not only help them develop mind and body awareness, but also help promote an inner feeling of tranquility and calm. And, more importantly, it's fun!
You might also like...