Gaining Work Experience Over the Summer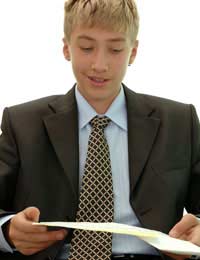 Most teenagers do work experience when they are in Year 10 or 11, often for a week or two. Work experience introduces them to the world of work and helps them think more seriously about what they may be interested in pursuing as a career. It also looks good on their CV.
If your teen shows signs of wanting to do something more interesting this summer than watching telly and playing computer games, why not think about vacation work experience? Many organisations are pleased to take on pupils over the summer months, and your teen could do anything from working in a London law firm to volunteering at a US summer camp.
What is Work Experience?
Work experience can last anywhere from a few days to a few weeks or even months, and can also take place once a week or so over an extended period of time. It is an opportunity for pupils to learn about working environments outside the traditional classroom, learning about a particular career path or job that may someday be of interest to them as a profession.
Pupils are placed in businesses or organisations for a specific period of time and expected to perform certain tasks while they are there, which could range from doing an entire project from beginning to end to just being part of the team and having everyday responsibilities. Most work experience placements are unpaid, although travel and lunch expenses are usually included.
Vacation work experience takes place over holiday periods. Types of placements could include:
Internship: usually somewhere like a law firm, bank or IT company.
Other placements. Could be anything like a glossy magazine to a vet's office. Usually less structured than an internship and can be for a longer period of time, although not necessarily.
Work shadowing. Not a real placement but the opportunity to "shadow" a professional and watch what they do as they go about their daily job.
Voluntary work. Anything from working with old people to helping out at your local Oxfam shop. These jobs are easier to get but they insist that teenagers take them seriously.
Going abroad. From working in a summer camp in the States to picking fruit in Portugal or working on an Israeli kibbutz, this is a great way to learn about working – and how other cultures live.
Benefits of Work Experience
Gaining work experience is not only about beefing up your teen's CV, it's also about learning life skills that will set them in good stead when they eventually apply for a university place or a job. Teenagers who do work experience learn about the types of jobs they may be interested in pursuing and those they'll choose to rule out. By doing so, they also learn about:
Working in a team
The importance of being punctual
How to develop self-confidence
How to take the initiative
Getting along with all sorts of people
Having good communication skills
Developing problem-solving techniques
Getting a Placement
In theory, schools help children get work experience placements during the academic year, although often it depends on who you know more than anything else. This is also true of the summer.
Ask your teen what type of job they would be interested in following over the summer, and what types of organisations interest them most. Then, plot your strategy. Having a good CV is vital, as is having decent interview skills and looking presentable.
Potential employers realise that they are dealing with teenagers, but the competition for some placements can be fierce, so encourage your child to do his or her best. Researching companies well ahead of time is crucial, as is not leaving everything until the last minute.
Gaining vacation work experience can be a fantastic opportunity for a teenager, and could even change their life! Look online, have them talk to their school, and plan in advance. Remember, any experience can help their future career, even if it isn't directly related to what they want to do in life. At the least, it will help foster skill that are transferable when they finally decide what they do want to pursue.
You might also like...