Mentoring a Younger Child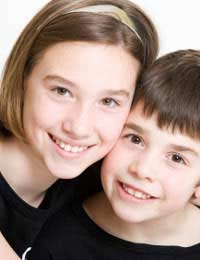 Older teens with no siblings or those who simply want to make a difference this summer could consider mentoring a younger child. While it may sound grand, all it really means is being a role model to someone who needs one. The amazing part is that both the older and the younger children benefit from this type of interaction, which can really change someone's life for the better.
What is Mentoring?
Legend has it that when Odysseus left to battle in the Trojan War, he left his son in the charge of a family friend called Mentor. When the goddess Athena came to visit, she took the disguise of Mentor upon herself, encouraging Odysseus' son to leave the palace, venture out on his own and discover more about his father.
Today, mentoring is defined as a "mutual learning relationship in which both the mentor and the mentee gain knowledge". In the past, mentors were there solely to help their mentees. Now, the two are there to help each other through mutual respect and learning.
Mentors are there as an older friend, not someone who knows all the answers but someone who is there to supply support, friendship and compassion. While most mentors are aged 18 or above, a family with younger children could also help mentor a younger child, especially a child in need who could benefit from safe, stable friendships.
Activities for Mentors and Mentees
Mentors don't need to plan anything ultra-special for their mentees. Ideally, they should just be able to enjoy spending time together. That could mean:
Going to the park together
Spending an afternoon in the playground
Having lunch in a neighbourhood cafe
Reading books together
Kicking a football around
Going to the cinema
Flying a kite
Peer Mentors
Sometimes schools ask teens to be peer mentors to other children. Peer mentors act as friendly advisors to other children who may be lonely, at risk of drinking or drugs, or have family problems. Sometimes peer mentors arise naturally through activities such as sports, extra-curricular events etc. At other times the school may intervene to ask if a teen can mentor someone.
If your child is asked to become a teen mentor, hopefully or she will say yes. Again, the main responsibility is just to be a non-judgemental friend. And it's a relationship that should be of benefit to both mentor and mentee.
In fact, research has shown that children who are mentored fully feel the benefits. They include skipping school less often, being less likely to begin using alcohol and drugs, more willing to talk about problems, less likely to self-harm, getting along with friends and family better and being able to develop stronger social skills as a whole.
How to Mentor
If your teen is interested in mentoring, there are many agencies who set up one-to-one programmes. Look online, talk to your local church, mosque or synagogue, or contact a local welfare agency. They could also look into a group mentoring project, helping out at a summer day camp, with a scouting group, at a community centre or summer playscheme.
A summer mentoring programme could be of great benefit to a child – and to your teenager as well! Who knows, the relationship could even turn into a lifelong friendship, and your teen could end up setting up a mentoring programme at his or her workplace someday...
You might also like...