Visit a Water Park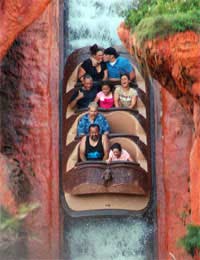 Visiting a water park abroad or in the UK (usually indoor ones) can be the highlight of the summer. Much more elaborate than a simple swimming pool, most parks offer a variety of attractions, including slides, wave pools, steam rooms and even special toddler water play areas. Fun for everyone!
Water Park Fun
The best way to enjoy a water park is to take stock of what's on offer, then pace yourself. Most parks offer not only thrills and spills, but also saunas, steam rooms, Turkish baths etc. So why not spend an hour or two on the slides, then another hour relaxing?
Water parks can be great fun for all ages, and parents often love them as much as their children do. Plan your day so that nobody gets too cold or exhausted, and keep a close eye on your children. Don't underestimate how tiring a water park can be – your kids might need the entire next day to recover – and so might you!
Top Tips
It's best to arrive early to avoid the crowds, or later in the afternoon. As weekends and term holidays are always the most crowded time, try to come on a weekday if you have small kids.
Some water parks only allow you to purchase food from them directly. Other parks have picnic tables outside for guest use, so you can bring your own lunch. Find out beforehand.
Lockers are available at parks, you will have to either purchase a token or have small change with you to operate them. If possible, avoid bringing valuables into the park.
Underwater cameras (disposable) are a good idea; more expensive photo apparatus will, at best, get steamed up and, at worse, get nicked.
Adults should always watch their children swimming, and younger kids should have armbands or waterwings. Stay in areas supervised by lifeguards. Remember, even children who are strong swimmers can get in trouble, especially when there are waves, at the end of slides etc.
Warn children in advance that queues can be long – but it's worth it in the long run. Good things come to those who wait.
Never go to a water park if you are ill. If you have had diarrhoea, wait at least two days before visiting a water park.
Always use the toilet directly after you change! There is nothing worse than struggling to use the loo in a wet swimming suit, or making eager children wait while another child runs to the toilet.
Other Points to Consider
If you have children of varying ages, make sure you have enough grown-ups to watch the little ones while you take older ones on slides, rapids etc to avoid disappointment.
Tell your children in advance that most water parks have strict height rules, so your little ones will know beforehand there are some slides they will not be allowed to go on.
Find out beforehand if you can take a picnic with you, to avoid queues and spending a mint!
Small children get cold easily, so plan on frequent breaks to warm up.
Take plenty of soap and shampoo with you as occasionally chlorine can irritate young skin.
You might want to bring extra dry towels to use right before you go home.
Some parks recommend using swim shoes – aquasocks or sandals. All parks will require babies to have swim nappies.
Sorry, Gran. Most parks will make you pay even if you don't go in the water.
Don't wear a swimming costume that can easily come undone – especially important for mums!
If you need a cool place to spend a summer's day, look no further than a water park. When the weather's scorching, there's no better place to be. And if you play your cards right, you'll have as splashing a time as your children – or even better...
You might also like...