Spend the Day at a Zoo or Country Farm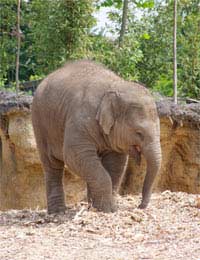 Enjoying the great outdoors is part of what summer's all about. Children of all ages will love an outing to the zoo or a country farm. If you think your kids are sure to become ardent zoo or farm enthusiasts – and what children aren't? - think of buying an annual pass. They can be a lot better value for money than paying for individual visits.
At the Zoo
Zoos are great for a lot of reasons. There is lots to do. It's educational and fun. The space is enclosed so small children can run around in relative safety. And they help children learn about both flora and fauna, and introduce them to the world of conservation.
If you have small children, it's best not to expect to do everything at once. Dividing the day into four sections usually works best. What you do can depend, in part, on your children's interests – and the weather. The nice thing about zoos is that there are always animals who live indoors to visit!
Visiting outdoor animals. Start by checking the zoo schedule to see when the penguins are being fed, at which time the gorillas go for a walkabout etc. Visit the animals your children are enthralled by first, in case you run out of time. See as many animals as possible until they get hungry.
Eating. Find a shady spot to have a rest and some food. Bring a packed lunch and plenty of drinks, then splurge on ice cream. Even if you're a mega-billionaire, the queues in summer sometimes can be lethal. If you decide to eat in the restaurant, you may be disappointed by either the food or the crowds – or both.
Visiting indoor animals/Seeing a show. Lunchtime lulls happen, so now is the time to visit indoor animals or check out a show. Many zoos offer a wide variety of performances, ranging from wild bird demonstrations to reptile fun. After a sit-down or a long visit to the butterfly enclosure or insect pavilion, your children will probably be raring to go.
Playing. Now's the time to burn off some energy before the ride home. Let your kids run wild in the zoo's playground, or splash out on the bouncy castle or merry-go-round. Most zoos have plenty of free outside entertainment to keep the kids happy.
Top Tips
Get a zoo brochure and plan what you want to see beforehand. If possible, look online and start discussing a potential gameplan with your children in advance. This will not only pique their interest, but will also allow for a more orderly and relaxing visit – with time to see everything.
Check the times for animal demonstrations and feedings when you arrive. It can be devastating for a child to realise you missed the shark feedings by five minutes!
Take time to find out where the play and petting areas are, as well as hands-on exhibits. Younger children in particular may tire easily of being a spectator, and will want to get their hands dirty and let off some steam.
If it's a hot day, bring sun hats and have lots of suncream, and make sure your children are dressed in comfortable clothing and proper trainers or shoes. The last thing you want is unhappy feet!
On the Farm
A day out on the farm can be a wonderful experience for a child, especially urban kids who usually only see farm animals on TV. Look online to see what farms are accessible to you, and see what activities and animals they offer.
Most farms have a lot to do besides look at the animals. Some offer hands-on animal activities, such as milking cows and petting and feeding goats. Others offer tractor rides, specially prepared lunches, and onsite shows, explaining what animals eat, their habits etc. If you have older children, ask in advance to see if there are activities that will entice them to come with you, such as go-karts or horse-riding.
Some of the events/activities you might find at a country farm include:
Tractor rides
Sheep-shearing/sheepdog demonstrations
Petting zoos
Trike barn
Go-karting and other sporting activities
Play areas with bouncy castles, indoor slides etc
Exhibits explaining how to mill grain, harvest hay etc.
Baby animal exhibits and demonstrations
Day trips can be loads of fun, and can be great ways for families to enjoy each other's company and explore new things. A trip to the zoo or a country farm could be the highlight of your children's summer. Plan carefully, and make the most of it!
You might also like...