Swimming With Babies and Toddlers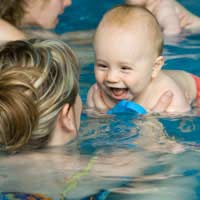 Swimming is a life skill that everyone should learn. But at what age should we start teaching our children to swim? Common wisdom says that the earlier the better, although it obviously depends on your child. Some are natural water babies, while others seem to take ages before they evolve into dolphins...
Teaching On Your Own
Teaching your child to swim on your own is by far the cheapest option. If you are a confident swimmer and enjoy swimming with babies and children, this could easily be the best alternative.
Start by finding a swimming pool close to you that is suitable for young kids. You will need a pool that is not too crowded during the day, and one where the water is the right temperature. Check swimming schedules beforehand to make sure you arrive at an off-peak time when children are welcome.
If you are teaching a baby to swim it won't matter how deep the water is as they will not be able to touch the floor anyway. With a small child, however, a pool with a graded floor that starts shallow and slopes gently is undoubtedly your best – and safest - best.
Getting your child to enjoy being in the water is the first hurdle. Prepare ahead of time by making bathtime fun, with lots of fun toys and games. Don't be too pushy, and let them take their time. When you first step in the pool, put your face close to your baby's and let him feel your skin.
Go gently, and remember that water wings aren't suitable for a child under age one. They may, however, like water buoyancy aids they can sit in, although NEVER leave a child unattended even for a second. Limit swimming sessions to 20 minutes or less and wrap your baby up warmly when he or she shows signs of getting too cold.
With time, you will come to understand how to progress further, when your baby is ready to learn to put his face in the water, hold her breath etc. With a little luck and perseverance, you'll have a little aqua baby in no time!
Swimming Lessons
Lessons are best for parents who are less confident swimmers, who enjoy the company of other parents, and who can swim themselves but have no idea how to teach! Most parents fall into this category, which is why so many little swimmers classes are on offer. They are hugely popular – and hugely fun.
Ask around to see where you can start lessons, and remember that they fill up quickly. Lessons are available for both babies and toddlers, so choose carefully. Researchers say that children who begin swimming lessons before the age of 12 months develop better personal and motor skills as well as better concentration in general. So get out there!
Swimming Do's and Don'ts
DO purchase swim nappies before you go to the pool. Your child won't be allowed in with regular nappies or just a swimsuit. And if you've ever waited while pool staff try to scoop poo out of a pool you'll know it isn't a very pleasant sight...
DO try to get your baby involved in swimming early, if he or she shows an affinity for water. If they enjoy baths, it's a safe bet they'll enjoy a larger pool as well – even though the water may seem cold at first.
DO swim only for a short time at first, and take your baby out to warm up if he or she starts to shiver. If your children associate swimming with feeling cold or uncomfortable they may not want to repeat the process.
DON'T be too scared of allowing a baby who hasn't had all his or her immunisations in the pool. The government line is that the chlorine will kill off all viruses and bacteria. If you are worried, however, it's fine to wait until your baby has all his or her immunisations – but put their name down on a waiting list in the meantime.
DON'T push your child if he or she isn't ready to begin swimming. Take it slow and easy and if they balk, it's best to wait a while before trying again.
DON'T be afraid to pull your child out of lessons if they don't seem appropriate for him or her. It could simply be a case of the wrong instructor. Try somewhere else.
Swimming with babies and toddlers can be great fun for both children and parents alike. Follow your child's lead and let them show you what they want. Some children take to water a lot easier than others, some like a structured environment while others learn by splashing around. Don't be pushy and stay attentive to your child's needs. And remember, while learning how to swim is important, it can also be a lot of fun!
You might also like...