Starting a Summer Playgroup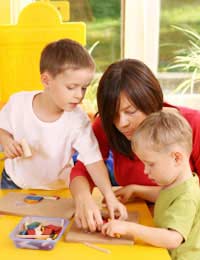 When the children are out of school during the summer months, it often can be difficult for them to find friends to play with to keep them busy and happy. Many families travel away during the summer, and in some areas it can be hard to locate structured groups or classes that are suitable, affordable and not over-subscribed.
You might have slightly older children – aged four and five – who haven't started school yet and don't have many friends, or you may find your younger children have nothing to do in the summer while their older siblings have set activities.
One way to help keep the kids out of mischief – and out of your hair – is to start a summer playgroup of your own. Setting up in advance of school letting out is usually a good idea to make the most of the summer, and you'll feel more comfortable knowing everything is in place beforehand.
Getting Started
The beauty of a playgroup is that you can meet up as often as you like (twice a week is usually ideal) and decide on activities as you go along. Obviously, everything will depend on the age of the children involved, as well as their individual interests.
Follow these easy steps to start your playgroup:
Ask your friends, canvas your neighbours or place an ad in your local newspaper or newsagent's windows. Starting with just three families is perfect, although if the kids are a little bit older you may want more.
Once you have assembled some like-minded families together, decide on a venue. You could alternate hosting at your own homes, or meet up in a local park or playground. A community hall or church is also a good place. Keep safety in mind, as well as the ages of the children involved.
After your playgroup has met up a few times, set some guidelines. You might want to meet up more often, to visit a museum, the zoo or the cinema, or host a party. Who knows – you might even all decide to plan a weekend away!
Baby Group
Starting a baby group is easy, and a good one will outlast the summer. The National Childbirth Trust is a good place to start finding babies in your area, although you might already be aware of who they are.
Babies only need a safe, supervised place to play, and little else. Very small babies are happy just having a snooze while their mums chat and drink coffee, and sometimes parents choose to meet in a cafe.
Alternately, take turns hosting at home and provide coffee, tea and biscuits for the mums (and dads), as well as juice and rice cakes or raisins if the babies are old enough to snack.
Setting up a baby playgroup will give you some free time to mingle with adults and get out of the house. You might set the groundwork for friendships that will outlast the years!
Toddler Group
Once the little ones are beginning to walk, they need more stimulation than simply watching their parents drink coffee (sad but true!). Nothing fascinates a toddler more than someone else's toys, so meeting up at other parent's houses can still be a good idea.
In the summer, however, you may also want to meet at the park or indoor soft play area. A city farm is also fun, or an outing to see a puppet show or similar toddler-related activity or performance.
Older Children
Older kids – aged four and five – will appreciate full-on activities, including trips to the park and playground, and perhaps even to the local pool. Most children this age are old enough to visit the cinema, and some will love visiting a museum appropriate to their age.
Kids aged five and up will most likely prefer meeting one-on-one. Saying that, many parents set up a standing "drop-in" date at their local playground, say every Tuesday at 2pm. That way, anyone at a loose end over the summer knows there will be children waiting to play at that time.
Starting your own playgroup can make summer much more enjoyable, for you and your children. It's always more fun when other children are around, and with the input of other parents, you may become aware of activities in your area you never knew existed. So give it a try!
You might also like...