Exercise and Gym for Tiny Tots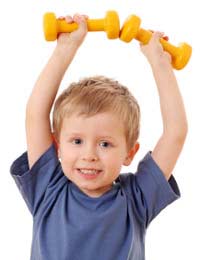 Even little ones need to keep active, and encouraging children from a young age to be physical will encourage them to stay fit and healthy when they're older. That doesn't mean your one-year-old needs to take weight-lifting classes down the gym, but there are loads of fun exercises the two of you can do together at home – or at a parent/child activity course.
Exercises for Babies
Babies cannot move much on their own, and are used to spending a lot of time sedentary: strapped into carseats and prams and lying in their Moses baskets and cots. Encouraging babies to explore and play from a young age can have benefits when they're older and develop increased motor and other coordination skills. Simple at-home exercises include:
Lie your baby on a blanket and put toys in front. Encourage him or her to reach for them and try to grasp them. A baby gym with hanging toys is great for a very young baby.
Play peek-a-boo or other games that will encourage your baby to imitate you.
Give your baby supervised tummy-time every day so he or she will get used to not lying just on their back, although sleeping babies should always be placed on their backs to reduce the risk of cot death.
Take your baby to different parts of your home to explore and show him or her new things every day. Make sure all areas are baby-proofed first and stay with your child, especially in unfamiliar surroundings.
Toning Up Your Toddler
Toddlers have loads of energy and it's better for both of you to try to use it up during the day to encourage restful nighttime sleep. Did you know that it is actually recommended that toddlers from age one on up indulge in at least half an hour of structured physical activity daily? Simple exercises can include:
Have your toddler help you do easy chores at home, such as putting clothes in the clothes basket or carry non-breakable dishes to the dinner table.
Play fun games that require both action and imitation, such as "Follow the Leader", "Farmer in the Dell" and "Mulberry Bush".
Have toys on hand that encourage physical activity – trikes, balls, skipping ropes.
Take your toddler to the playground regularly to encourage not only physical coordination but also much-need interaction with other children.
Activities Away from Home
Babies and toddlers can also benefit greatly from participating in activities away from home that encourage physical movement.
They include:
Baby Massage
Baby massage is arguably one of the best ways for mums to learn how to physically and emotionally bond with their babies, and for babies this hands-on experience is both soothing and relaxing for them.
Even newborns can benefit from baby massage classes. At a baby massage class you will be required to bring a blanket or pillow for your baby to lie on, clean nappies and baby or olive oil. Instructors will teach simple massage techniques and gentle touches that will help stimulate all your baby's senses and make him feel good all over.
You can easily do baby massage yourself at home, although many mums, especially first-time ones, prefer to take a class instead. It's also a great way to meet other mothers and have a bit of socialising away from the daily grind of feeding and nappy-changing.
Baby and Toddler Yoga
Baby yoga usually incorporates baby massage as well, and is a great way to encourage baby-parent interaction. Through free-flowing movement, touch and sound, babies learn better coordination, sitting and standing techniques, and motor skills. Proponents of yoga says it also help alleviate common problems such as colic and constipation and builds a strong parental bond.
Toddlers can also benefit from yoga classes. At this age, they are old enough to understand and enjoy doing simple poses, such as Cat, Tree and Dog. If you encourage them to make animal noises and allow them to copy what you are doing, they will have fun and learn simple relaxation and stretching techniques at the same time.
Tumbling for Tots and Swimming
Many gyms, community centres and parent-toddler groups offer tumbling, or its equivalent, for tiny tots. These classes aim to teach toddlers about rhythm, movement, coordination skills and dance through a series of fun tumbling exercises. Gyms and leisure centres also have swimming classes for kids, which in some cases accept children as young as a few months old – with their parents, of course.
The majority of tumbling classes rely on parental involvement, as small children cannot be left unattended, especially with equipment. So as a parent, you will not only have the chance to see first-hand what your child is learning, but you may also get a bit of exercise yourself!
What you will get depends upon where you go, but many places offer lessons that include the use of ball pits, trampolines, basic gymnastics equipment, soft play areas etc. The vast majority of children love attending both tumbling and swimming classes as the atmosphere is fun and relaxed, and they learn something without even realising it!
You might also like...