Survival Tips to Cure Summer Boredom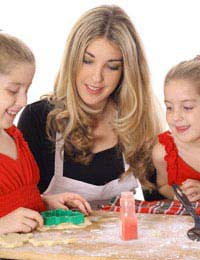 Summer is a long-awaited break for most schoolchildren, yet why is it that when summer starts, boredom can set in within just a few days?
As parents, we try hard to plan a summer that, if not full of African safaris and Parisian shopping trips, will at least keep the little ones busy – and out of our hair.
Yet even the most well-intentioned plans don't always turn out as well as imagined, which is why even the most carefully orchestrated summer holiday can still fall short of the mark.
So when those cries of "I'm bored" start coming at you fast and furious, what do you do – short of strangling the kids or calling the nearest adoption agency? Our top tips to cure summer boredom – for a few hours at least - should get you off to a good start…
Rainy Day Indoor Fun
Boredom often rears its ugly head when the weather's bad. Try these rainy day ideas for some affordable indoor fun…
Do the chores. Small children love this activity, which basically involves teaching them the ins and outs of cleaning the house. What six-year-old doesn't adore using the Hoover – with a little supervision? Small children also love to dust, do the washing up, and helping reorganise. Break out small baskets and containers and you can spend hours reorganising your life. Ingenious, isn't it?
Exercise. Put on an old DVD, dress up in outrageous 1980's exercise gear and dance the afternoon away. You and the kids will get a good work-out, and hopefully it will take away some of that pent-up energy as well.
Paint the house. This might sound a bit far-fetched, but if a room needs a lick of paint, you and the kids might be the people to do it. Let them have fun on the walls beforehand, then paint it over. Who knows – your whole house might get a makeover!
Start a scrapbook. Think about a recent trip, or collect souvenirs over the next few days to put in a book, which can just be several sheets of paper stapled together. You can even do a "pretend" scrapbook about a place you hope to visit.
Have a sleepover party. Invite a few friends over, break out the sleeping bags, and put on a DVD. Popcorn and a midnight feast are always welcome, as is a pancake breakfast.
Put on a play. Act out a much-loved fairy tale, or make something up. Invite the neighbours or older siblings, and serve refreshments. You could even think up a mini-series, which could last several afternoons, at least…
Outdoor Fun
Sometimes the kids just need to get out of the house. But if you're short on cash – and creative ideas to keep them entertained – what can you do? Try these for starters:
Go camping. Even if your tent is nothing more than a makeshift shelter in the back garden, nothing is more fun than camping. Have the kids spend a few hours preparing, which means fashioning a Camp Survival Kit including everything you need to sleep, eat and have fun.
Have a picnic. Make your regular lunchtime fare, then pack it into a bag and go somewhere special. Eating is so much more fun in the fresh air!
Shop at a charity shop. Give yourself a budget – perhaps £3 a child – and go wild. One week it can be books, the next toys, the next clothes. You could have a dress-up party with the loot you come up with.
Pretend to be a tourist. Take the kids out to see the sights in your own hometown, seeing things you've never seen before, or have already wanted to see. Draw up a list and let every child contribute. Visiting every site on the list could take days – if you're lucky!
Banish Boredom
Summer should be a time of rest and relaxation, but also an outlet for children's creative imaginations to take flight. With so much to do, there's really no reason any child should be bored during the summer.
If all else fails, make a "bored board" – a long list of things to do you and the children have brainstormed together to post on the wall.
Encourage your kids to look at the list when their cries of "I'm bored" are driving you crazy - it should always inspire and innovate them to think up something fun to keep them happy and entertained.
You might also like...