Ice Cream Craft Projects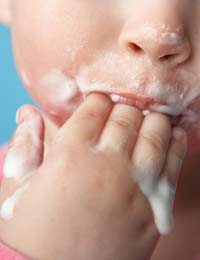 Children love ice cream, and anything involving this yummy treat can be fun, frivolous and delicious. But there's no need to limit yourself to fun with real ice cream only! Craft projects involving this delicious dessert have a genuine summertime feel, and are guaranteed to make every child happy. I scream, you scream, we all scream for ice cream...
Ice Cream Clowns
This is a great one for parties or as a DIY special dessert at a children's garden party or outdoor lunch.
Buy colourful baking cases, then place a scoop of ice cream inside each one. Let each child decorate the "face" anyway they like, with chocolate chips for eyes, sprinkles for hair, nuts or cherries for a nose.
When the children are done decorating, place an ice cream cone upside down as a clown hat – waffle or plain cones will do, or even rainbow ones. Looks beautiful, tastes yummy and is a sure-fire way to impress your children – and their friends - with a fancy dessert they'll love.
Bag It!
This is the easiest way of making ice cream imaginable – and you can even do it in the garden! First, add one tablespoon sugar to ¼ cup milk and ¼ cup cream in small seal-tight plastic bag. Then add ½ cup rock salt and ice to larger plastic bag.
Finally, put smaller bag into larger one and shake vigorously for five minutes and hey presto! A bag of vanilla-flavoured ice cream. Experiment with different flavours then add sprinkles, chocolate chips or Smarties on top. Eat and enjoy.
Ice Cream Sundae/Paddling Pool Party
When it's hot outside, there's no better way to cool off than hosting an ice cream sundae party in the garden. Start by making invitations that look like real ice cream sundaes, with three scoops of ice cream, a banana, whipped cream and a cherry on top.
Write the venue in one scoop, the date and time in another and contact details in the third. Add the child's name to the cherry and other additional information on the banana.
Ask guests to arrive in their swimming costumes but bring clothes to change into later. When they show up, play a few party games, then serve a simple lunch of sandwiches, crisps, fruit and water. This is important to avoid any child becoming sick from eating too much ice cream!
Once they're suitably full with healthy food, let the fun begin. Each child is given a large plate or bowl, then gets to choose three different scoops of brightly coloured ice cream. Once they get their scoops, invite them to take their choice of sundae specialities: bowls full of sprinkles, nuts, cherries, sweeties, and of course hot fudge sauce, whipped cream in a spray can and strawberry syrup. Of course, you'll also need cut bananas to make banana splits.
Let them get as messy as they like – that's part of the fun. Once the eating's over they can splash in the paddling pool or run through the sprinklers, then change into dry, clean clothes before going home.
Other activities/ideas to keep their interest at the party:
Stage a contest for Most Original Sundae, with ice cream-themed prizes.
Have a competition to see who can eat the most ice cream in two minutes.
Invite everyone to draw a picture of their dream ice cream sundae.
Handy Ice Cream Cone
Little ones will love this easy craft. Have them trace or draw their handprint three times on three different pieces of coloured paper. Then glue them upside down so they are overlapping each other. Draw a waffle-like ice cream cone underneath and you have a gorgeous triple-scoop creation waiting to be decorated.
Accessories will make this ice cream look the best. Add glitter, sparkles and pieces of wrapping paper or kitchen foil, and glue on buttons, pipe cleaners and other pretty items that have hard surfaces. Anything to make their ice cream as sparkly and glittery as possible!
Shaving Cream Ice Cream
Use shaving cream and glue mixed together to create a realistic-looking ice cream cone that looks good enough to eat – but isn't.
Before you make the ice cream, have your children select a bright piece of coloured paper, then either draw or paste an ice cream cone in the middle. Next, mix glue and shaving cream together with a dollop of non-toxic paint – pink for cherry ice cream, brown for chocolate etc.
Once the cone is dry enough, have your child paint an ice cream on top. It looks like real whipped ice cream but won't melt! Looks great as a greeting card or part of a larger painting.
You can also make realistic-looking faux ice cream sundaes with this fun project. Glue balls of cotton wool onto pieces of paper, then drawing or pasting a paper bowl underneath. They can drizzle paint on top to make it look like chocolate or strawberry sauce, and glue on fake sprinkles and a spoon. Top it off with a red paper cherry.
You might also like...