Drama Based Summer Camps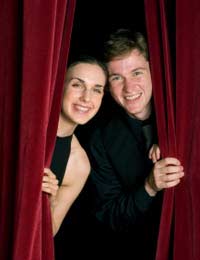 Budding actors and actresses will love enrolling in a drama class or camp this summer, which could perhaps even pave the way for a future profession in the performing arts. Such classes are also great for children who just need to build up a bit of confidence in a relaxed and fun environment, without the daily pressures of school to interfere.
Why Drama?
Many children have no idea how to entertain themselves during the summer months. If you're one of the lucky parents whose child already has hobbies and interests, you're sitting pretty. But if not, getting your kids involved in a drama workshop or camp this summer could be one of the best decisions you've ever made.
Drama experience is not required for most children's classes. What is required is that the kids are willing to perform openly in front of others, that they are open to trying new things, and that they are excited about experimenting. For younger children, a drama workshop is just an extended form of playing make-believe. For the older child, it can help them escape into another way of being and dissolve into another character – if only for a moment.
Summer Day Camps
Any child who has been bit by the acting bug would enjoy attending a drama day camp. While of course every camp differs, most offer coaching by experienced specialists in acting, voice, dance and stage presence. Some may specialise in improvisation or comedy, while others may offer specialist courses in commercial television, musical theatre or period drama. Still others will have classes in stage management as well as technical production.
While there are numerous professional drama schools in the UK, there are also loads of drama workshops, classes and camps that provide short courses for kids who just want to have fun, or who would benefit from an introduction to drama to ascertain whether or not to take the interest further. Among those are well-known franchises with courses offered throughout the country.
Look online to see what is on offer, and what type of course or camp would suit your child best. You could also call a professional school for advice about which variant would fit your needs most closely.
Why Drama is Good for Kids
It doesn't matter if your child harbours ambitions of becoming the next Gwyneth Paltrow or not. Drama classes have numerous benefits for children, even those with no professional aspirations in the performing arts whatsoever. Among other things, they will:
Learn how to play make-believe and pretend games.
Make new friends from different walks of life.
Discover tips to enable them to memorise things quickly.
Build self-confidence as they perform creatively in front of others.
Feel confident when doing public speaking in future.
Discover how to control their body through different movements.
Learn discipline, and how to listen to and appreciate others.
Learn how to appreciate and enjoy literature from different time periods.
Have loads of fun learning to be an actor or actress!
Drama camps and summer classes and workshops can be an effective creative outlet for children who are natural extroverts, and can help open up kids who are inclined to be timid and shy. Drama teaches children how to control themselves and as well as how to let themselves go, and encourages them to have fun. They might make a dramatic difference in your children's summer experience...
You might also like...