Adventure Based Summer Camps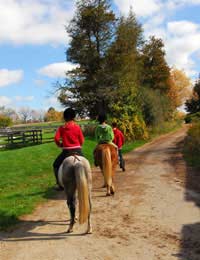 For kids who like thrills, spills and a bit of excitement, not to mention physical exertion, few summer activities can surpass those found at an adventure-based summer camp. Unlike simple multi-sports camps, such camps invite kids to participate in everything the Great Outdoors has to offer, from snorkelling to scuba diving to mountaineering. Age restrictions apply.
What is an Adventure Camp?
If your little daredevils can't resist a challenge and like to stretch themselves to the limit, an adventure camp couldn't be a better way to spend the summer. Both day and residential camps exist, offering kids the opportunity to participate in a variety of outdoor activities, ranging from backpacking to trekking to rock climbing.
Adventure camps are not for everyone. And luckily, no two adventure camps are alike. Some offer activities for the very skilled and mature camper, others offer activities that are considered much more sedate. You will have to decide, based on your own child's age, ability level and personal considerations, what type of camp is best for him or her. And you may find that an adventure camp isn't the right choice at all!
Adventure Camps for Younger Children
Pre-teens who love to spend every waking minute outside would no doubt love spending a week or two at an adventure camp. For younger children, they often combine outdoor pursuits such as swimming, kayaking and horse riding with more traditional activities such as singing and arts and crafts. What's crucial is finding the right balance.
Like any summer camp, most adventure camps for this age group seek to combine wilderness activities with other types of learning, as well as encouraging children to develop social skills, better confidence and self-esteem, and an increased sense of spirituality. Whether it's a day camp or a sleepaway camp, your child will no doubt learn a lot.
Adventure Camps for Teenagers
Teens are able to participate in a wider spectrum of activities, so adventure camps for them can cover a much broader array of things to do. Ask your own child what types of activities they have always wanted to participate in, then take it from there.
If money is no object, why not send your teen on an adventure camp abroad? The key to a great time is to have them narrow down their interests, then find a camp that caters to that. Here are just a few on offer to teens of various ages, look online for more information.
Tropical marine biology camp. Located in the Virgin Islands, your teen will have the chance to learn everything there is to know about the undersea world.
Tall ship sailing programme. Have them sail in either Tahiti or the Mediterranean, learning all about yachts. Water sports and scuba can be added on request.
Whitewater rafting. They will learn about the environment as they navigate through rapids in the Galapagos Islands.
Wakeboarding adventure. Learn how to master this exciting sport in the French Caribbean.
Rainforest exploration. The Great Barrier Reef is the home of this action-packed camp.
Hunting camp. Learn how to hunt and fish in Canada.
You won't hear "I'm bored" this summer if you decide to send your a child to an adventure-based camp this summer. The problem is, they'll want to go back again and again!
You might also like...