What I Do When the Kids Get Bored: A Case Study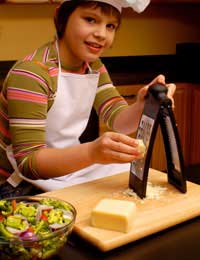 Maxine Kaufman is a mum on a mission: to keep her children busy and happy all summer long, with no cries of "I'm bored" or "What can I do now?" Her three little darlings are aged 6, 9 and 10, and they all like to keep busy from morning to night. How does Maxine do it?
To begin with, every summer the three children - Ella, Millie and Jake – have activities planned for them every morning. Ella, who loves swimming, is enrolled in a three-week semi-beginner's course which takes up every morning until midday, Millie has both drama and acting classes and Jake takes football and karate.
"It's not cheap, but having a routine for them starts the day right," says Maxine, who lives just outside Norfolk and is a former lawyer. "When they finish those courses we are going away for a week, then they have two more weeks of classes before the summer's over. It gives structure to their day."
Making Household Chores Fun
In the afternoons, the kids eat lunch then have a packed schedule. They alternate between going on outings with their mum, visiting friends and doing homework and chores. Not surprisingly, they all get a healthy amount of pocket money – if they complete their tasks without complaining.
"Ella hoovers while the other two perform more complicated tasks, such as cleaning the bathrooms, tidying up and even gardening," says Maxine. "We have a chart with revolving tasks and they get hefty rewards, so they usually do it right first time. Although sometimes other parents are a bit surprised by the amount they do!"
When they finish their tasks, they are allowed free time before the obligatory homework session kicks in. "I like my kids to have some time to relax in the summer, but what's the point of a private education if they forget everything they learn over the summer period?" says Maxine, who send them all to an expensive private school.
"I try to make summer homework fun, and usually they like it. They also have to practice the piano and read every evening, but the secret of never getting bored is having a strict routine to follow all the time. It never fails!"
Toy Rationing
Sometimes, Maxine admits, the kids do fight or bicker. So when the going gets tough, the tough break out new toys. "I always put aside at least four toys from the children's birthday parties and Christmas, as you never know when you'll need something fun and new," Maxine admits.
"For example, in May Ella turned six, and invited everyone in her class. She had so many presents I didn't know where to put them all.
"So I put a few toys that she already had in my present box to be re-gifted, then put about four others in a box cleverly hidden where the kids can't find it. I always do this, and when the kids are really tired or bored and nothing seems to cheer them up, I have a special new toy for them to play with."
Other times, says Maxine, she takes out a toy when a child is invited on a special outing and another one feels left out. "Last summer Millie went on a sleepover but I felt Ella was too young, although she was invited. She pouted all day that she had nothing to do, and only cheered up when I broke out a present from the box," Maxine says. "It might seem like bribery – well, I guess it is – but to me it's worth it."
Keeping Boredom at Bay
Maxine adds that the secret to stopping the kids from getting bored it to ensure that they rarely have down-time – and on the rare occasions that they do, to make sure something exciting is there to fill it. "My kids are only allowed telly once a week, so that's a big treat for them," she says. "I also buy DVDs I know they want to watch, and we make popcorn and watch together as a special occasion.
"We also each keep a summer journal, and each child gets to choose one outing a fortnight that is of special interest to them, which we all go on. And if they're really really well-behaved, we take them to a restaurant or cafe, or to do something really exciting like horse riding or roller-skating.
"They have learned to appreciate things, and to know they have to work for them. But because the rewards are good enough, they're happy to do so. And that keeps everyone happy – and busy!
You might also like...