We Spent Three Weeks in a Mobile Home: A Case Study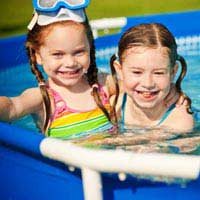 Dina Marchant had one bad experience in a caravan park, but that didn't put her off spending the last summer holiday in a mobile home. In fact, she and her three daughters spent three weeks in three different mobile home parks in France, and everyone had a brilliant time.
"Three years ago we spent a week in a caravan park near the south coast, and I swore I would never do it again," says Dina, 46, who works part-time at home in London.
"The caravan was so small you could hardly turn around, and at night it was freezing. The food in the one restaurant was horrible, and the other campers were rough, to say the least.
"The one thing my kids were really looking forward to was the swimming pool, but it was so cold that when they jumped in, my youngest started crying. I later was told the boiler had broke."
French Fancy
Looking for something a bit more upscale but still affordable, Dina and husband Max investigated mobile home holidays instead - this time, in France. They decided to travel to France by car, so they'd have the freedom to take advantage of the surrounding area if the park wasn't up to their expectations, and booked three weeks in three different mobile home parks.
When they go to the first park, on the Vendee near the coast, they loved it immediately. "The mobile home was about twice the size our caravan had been, and my eldest, who was nine, had her own room. There was a kids club, two big swimming pools, and the beach was a five-minute car journey away," she says.
"None of them wanted to leave, and my eldest cried when it came time to pack up. She would have been happy spending all summer there!"
Bring on the Barbecue
The next park was also lovely, Dina says. "It was a lot bigger and had a man-made lake at one end, plus two swimming pools on either end of the park. The restaurants were nice, and there was a brocante, or big car boot sale, nearby on the weekend."
Dina's family really felt they were in France, especially as this park was located more inland in the middle of beautiful countryside. The family spent several days looking at the chateaux in the area, and met some other English people with children close to the age of their own.
"Our mobile home had a big deck and a barbecue, so we invited them over and cooked these lovely French sausages every night. My husband bought some cheap wine at the local shop and it was delicious, and we really began to relax.
"They had a kids club as well, and my daughters, who were then four, seven and nine, spent several mornings there while my husband and I read books on the deck. I really began to feel it was a holiday.
"We bought clothes and towels with us, as well as some cooking essentials such as olive oil, teabags and washing up liquid. We bought other things from the local supermarket and only ate out three times during the week.
"The only problem were the washing facilities, as it cost about £10 to wash – and dry – a load of clothes. And the washing machine worked so slowly I spent an entire morning just doing one load."
Third Time Lucky
The third mobile home site was also near a lake, and was a bit more upscale than the others. "Most of the other people were Dutch, and the site offered large wooden chalets as well as tents and mobile homes," says Dina.
"The chalets looked very nice and I almost wished we had booked one of them, but the kids loved our mobile home, especially as the last occupant had left a hammock behind hanging up between two trees.
"The only thing they didn't like was the heat, as the park offered little shade. During the day things were okay as we spent a lot of time at the pool or the lake, but two nights were so hot we felt like we were crammed into a sardine tin.
"I had to say that at the end of the holiday, I was more than happy to get back to our flat in London!"
Would she do it again? Definitely. "I wouldn't mind going back, as it's a relatively inexpensive way to travel abroad, especially compared to a hotel. And I'm not really a tent type of person, so that's not an option," she says.
"I like having my own toilet and shower, and I like the privacy a mobile home affords, as opposed to a tent. If I was a millionaire I'd obviously prefer a five-star hotel, but mobile home living can be great fun, especially if you have kids!"
You might also like...