Circus Skills for Children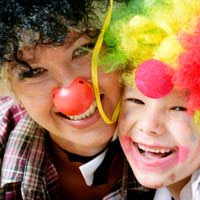 Have your kids ever threatened to run away and join the circus? Well, now their threats could become reality. These days, a variety of different groups and organisations offer circus skills workshops and classes for children. So if your little devil wants to become an acrobat, trapeze artist or tightrope walker, here's their chance! Just don't let them try this at home...
Circus Skills Workshops
Many organisations offer one-day workshops for various levels that introduce children to the world of circus skills, or encourage their advanced learning. This might be a good idea if your children have never participated in any type of circus skills before, to see if it's the right activity for them. While many children love tumbling, they might balk in a more regimented setting. So don't pay for a term's worth of courses unless you know they really are ready to take part.
Many people who teach circus skills are former circus professionals, along with other people trained in acrobatics, gymnastics and other arts. They offer a variety of activities for a variety of different ages and skills level. It's a good idea to check their safety record and make sure they are fully insured before allowing your kids to enrol...
Circus Skills Classes
Other organisations offer ongoing classes throughout the summer – and the year – for kids who want to take their circus skills more seriously. While there are classes that cover everything, many concentrate on one specific area only.
One attraction of circus skills courses for many parents is that they are non-competitive, and allow children to develop at their own pace and receive recognition for their individual achievements. They help develop both sides of the brain, and are suitable for children of any ability, being fun and rewarding for disabled as well as able-bodied children.
What They'll Learn
What your children will learn at a circus skills workshop depends partly on them, and partly on the organisation. Look around to see what's on offer and what types of activities interest your child most. Maybe they want to swing from a trapeze, or maybe their interests lie in other types of acrobatics involving unicycles and trampolines. Whatever takes their fancy, there is something for everyone out there.
In a nutshell, activities include:
Trapeze and tightrope
Clowns and face-painting
Acrobatics and trampolines
Juggling and spinning
Stilt-walking and unicycling
Hula hoops and yo-yos
Pyrotechnics and knife-throwing (not for the faint-hearted)
The Benefits
Circus skills are just about having fun, although that's arguably the most important bit. Your children also will develop:
Improved sense of balance
Fine motor skills
Higher fitness level
Coordination skills
Better agility and flexibility
Increased ability to concentrate
Improved hand-eye coordination
Better self-esteem
Make this summer one to remember with a circus skills workshop or course. There's practically no child alive who would not love to join a circus skills class. Most only accept children from age seven, so hopefully Junior will have outgrown his fear of clowns by then, although maybe not his fear of heights...
You might also like...