Mystery Animal Dot-to-Dot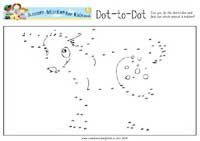 Are you going on any trips to the Zoo this Summer? Or how about a visit to the park or forest? You can have such a fantastic time there, there are so many animals to see and so many things to do!
What's your favourite animal? How about a huge grey elephant? Or a tiny furry hamster? There's a mystery animal hidden in this dot-to-dot - do you think you can guess what it is?
Have a go at joining all the dots together to discover the animal - then you can colour it in!
Why not Download the Mystery Animal Dot-to-Dot and see if you can guess who's hiding in the picture.
For Parents
This activity is aimed at 5 to 8 year olds, it's a fun Summer game for your children to play and can help to build their drawing, imagination and problem solving skills.
We have many other games and puzzles in the Download section which can be reached from the sidebar on the left. All our printable puzzles are completely free and are great to keep on hand for kids to do at any time, or as a fun rainy day activity.
All of our puzzles are supplied as a pdf so you'll need to have Adobe Acrobat installed on your system. If you haven't, Google it and you'll find lots of places and instructions on how to get it.
You might also like...