Kids' Projects: Writing Your Own Book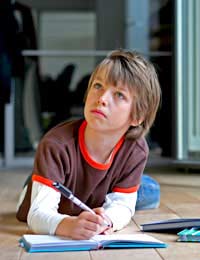 When a child learns how to read it's a wonderful thing. And the best way to encourage reading is to stimulate an interest in books from an early age. What better way to do that than to have your kids write their very own book this summer? Who knows, they might become the next JK Rowling...
Ages 2 – 4
Children this age love being involved in reading activities of any kind, whether they are being read to or are trying to learn how to read themselves. Toddlers can draw a series of pictures on loose pieces of paper to form a narrative, which you can then staple together into book form. Add some cardboard for a cover and hey presto! You've got yourself a book.
News Book
Slightly older kids might enjoy making a news book. Here's how...
Every day, or every few days, encourage your children to tell you about something they recently did.
At the end of the discussion, have them sum up their activity in one succinct sentence, such as "We went to Nana's house" or "I helped bake a cake."
Write the sentence in connect-the-dot style at the bottom of a sheet of paper and let them copy it, or write it and let them copy it underneath. A fun and easy way to learn handwriting skills.
Let them draw their own picture to accompany the wording.
When you have enough pages, staple them together and have them draw a cover for their book.
Ages 5 – 8
By this time your child should have a grasp on reading, at least the fundamentals, and be able to understand the concept of what makes a good book. No doubt he or she has a favourite book they love to read again and again. So the best way for them to learn more about book-making is through imitation....
Copycat Book
Getting then started on their first book isn't difficult if they have a little help along the way. Using a book they love as a prototype is a surefire way to success – and will help teach them the basics of making the structure of a good book - and practice their handwriting at the same time.
Have them choose a book they love, hopefully not a chapter book but a more simple one with illustrations on every page.
Read through the book with them carefully, paying attention to introduction, setting up of characters, scene setting, plot and denouement.
Plot a book which loosely follows the narrative of the chosen book, i.e., three pages of intro, main event happening on page seven, introduction of two main characters on pages one and four, main event on page 15, end of book on page 23.
Write own book which follows the same structure.
Copy out on nice paper with beautiful handwriting, or, if able, type on computer.
Illustrate with own drawings, computer graphics, collage made from magazine cuttings etc.
Ages 8 On Up
Many children in this age group are budding authors, and many have the computer skills to help make this a reality. Let them think of a plot on their own and help them to expand their imagination outside the obvious. This project can be done over a week or bit by bit over the entire summer.
Plot It
To help them form their first masterpiece, have them follow these simple steps:
Think of a plot idea with an introduction, middle and end. Concentrate as well on scene setting and character development.
Divide plot into ten chapters – or less depending on your child's attention span.
Write each chapter one at a time, based on their notes.
Write it down page by page, or type into the computer.
Include illustrations, either drawn by hand or computer-generated.
Photocopy or print more books if possible - will make fab gifts for the grandparents and is a great way to boost your child's self-esteem.
Many children dream of becoming an author when they are first introduced to books. Even if they never write professionally, encouraging them to make a book of their own is a fun and educational exercise which helps improve their writing, thinking and drawing skills. Have fun!
You might also like...